Kate Spade Stationery - New For April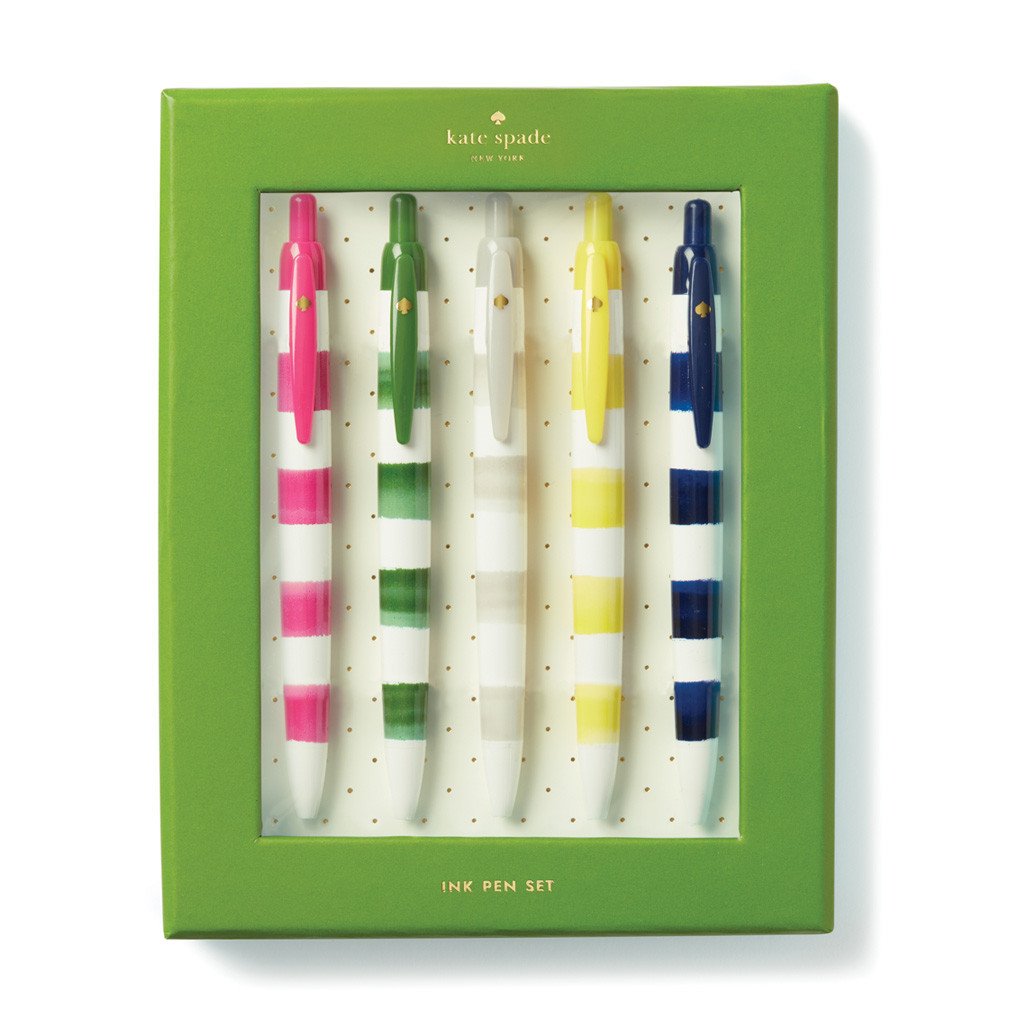 We are getting lots of fab new Kate Spade Stationery items delivered to The Paper Parlour HQ this month. Here are some stylish new additions which arrived this week!
You are going to love this multi-hued pen. It has a sweet gold dot decorative design and will look fab paired with a Kate Spade Notebook or Agenda. 
The Kate Spade Rugby Stripe Pen Set has 5x pens included, all with black ink. Each ballpoint pen comes in a different colour with a stylish stripe design. The clip allows for easy storage on any notebook or blazer pocket. Kate Spade is introducing more bright colours into their range just in time for Summer, even their packaging has changed to a vibrant Spring green. 
We love Kate Spade Journals! They are finished to the highest standard and always exude quality. The introduction of this Lemons design shows another injection of colour to their stationery range and we are loving it. Each journal is filled with 300 lined, wood-free, ivory coloured pages. It is a case bound lay flat design with a book cloth cover. It also has 6 handy ribbon bookmarks. 
The Kate Spade New York Magnet Set knows the magic of a well-timed compliment. Enliven the offices dry erase board or finesse that kitchen fridge with these colourful, conversational magnets. Each set includes 24 colourful magnets. 
We know you loved the Kate Spade Love Is In The Air Bridal Planner so we could not wait to see this new addition to the Kate Spade Bridal Range. The Kate Spade Happily Ever After Bridal Planner has 3 gold ring binders and is filled with 48 planning pages. It has a handy pocket with gold accents and a clear zipper pouch. We love the stunning cake design on the front. The chic black illustration looks divine with the gold foil 'Happily Ever After' statement running through the middle of it.
Click here to view more Kate Spade Stationery P.S Don't forget Kate Spade 2017-2018 Agendas and 2018 Diaries are arriving in May! Please go to our contact us page and send us a message if you wish to be informed when they arrive.