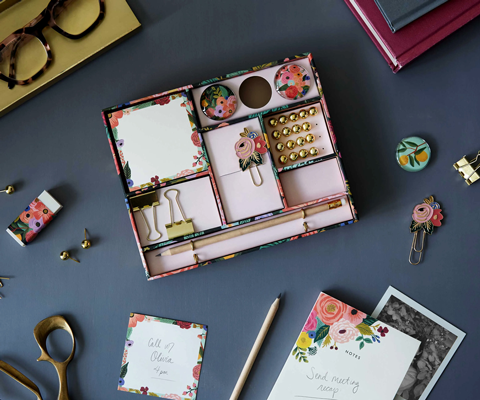 So you have your planner but you want to make it your own, planner accessories will help you personalise your pages and get a bit of creativity flowing!
First and foremost, a must for any planner aficionado is a vast array of stickers. We have sticker sheets and sticker books galore in a mix of styles and themes. These sticker sets from Rifle Paper Co are perfect for planning and decorating your pages. 
We have a fab range of tapes in beautiful colours and prints. You can get really creative with a bit of tape plus you can secure photos and notes to your pages. 
Secure loose bits of paper with paper clips like the ones below. We have these sweet Rifle Paper Co Clips.
We are totally smitten with these pens from Rifle Paper Co. Rifle Paper Co Pens perfectly co-ordinate with the Rifle Paper Planner range.
Layer up with sticky notes! Add quick reminders to your planner with ease or mark important pages that need to be found easily. 
This Rifle Paper Co Folder set is perfect to store all of your loose excess notes and letters that are not suitable to store in a planner.
For the ultimate planner accessories check out this brilliant Rifle Paper Co Tackle box filled full of stationery essentials such as a tear-off pad of paper, 2x enamel paper clips, 20 gold push pins, an eraser, 3x golden binder clips and 2 pencils!
 Click here to view our full range of Planner Accessories.